Mr. Purshotam Agarwal, VP and Mr. Suresh Kadam, Sr. Analyst,
SBI Capital Markets Ltd
A workshop on Project Finance & Financial Modelling was conducted on 27th February 2016. by Mr. Purshotam Agarwal, Vice President and Mr. Suresh Kadam, Manager SBI Capital Markets Ltd, Mr. Purshotam Agarwal spoke broadly highlighted on the area of project finance (incl. financing process and structuring and risk management).
Mr. Suresh Kadam covered the topic of financial modelling. He emphasized that the financial model needs to simple, consistent and user friendly. He covered the key function in Excel format with which a financial model can be well prepared. He also presented a case study using these basic functions.All students participated in the seminar and gained insight on project finance & financial modelling.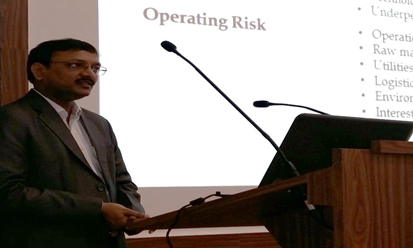 Mr. D.S. Tripathi, CEO,
Adhaar Housing Finance Pvt. Ltd
An expert session delivered by Mr. D.S Tripathi, CEO, Adhaar Housing on "Housing for all- It's impact on human and economic development "was delivered on September 12th ,2015 for the MMS. He initiated his session with overview on the reforms that has taken place in the last 2 decades in banking with an emphasis on how the government is trying to achieve its objective of providing finance at reasonable cost to all to meet the 4 basic needs of man food, clothing and shelter.
Later the speaker focused on the how housing is important for the overall growth of the country especially for the industrial sector which directly impacts the development of the country. He also mentioned the current focus of the government on providing affordable housing to all and how government is planning to provide subsidies and assistance in terms of financing for affordable housing through NBFC. He further discussed on how a job market is getting created in rural banking with a focus on financial inclusion for rural areas specifically in relation to affordable housing.
In addition to above discussion, he also gave career guidance to students on how to achieve their goals in a planned and organized manner. The lecture has proven to be very inspiring and informative for the students.